What is Teletherapy?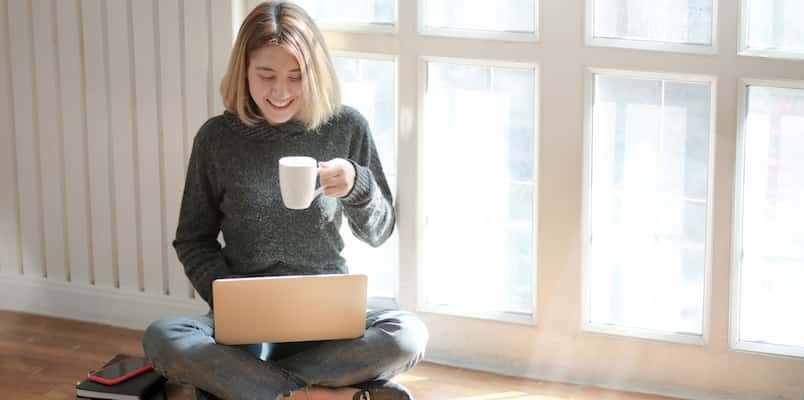 Teletherapy, also known as online therapy, virtual therapy, telemedicine therapy and telehealth therapy, includes mental health therapy services provided by a licensed therapist or counselor via live video conferencing. This is similar to traditional therapy as you receive the same services from a licensed professional, but teletherapy happens in the comfort of your home or other remote locations of your choosing. This treatment option is available for all therapy specialties offered through the Westside Behavioral Care website.
Secure, HIPAA-compliant platforms are used to connect therapists and their clients, such as Zoom for Telehealth and OTTO Telehealth, which are easily accessible from mobile and desktop. If you have used platforms like Facetime or Skype, you have been exposed to platforms similar to what is used in teletherapy.
Teletherapy is especially important to consider during challenging times, such as global pandemics like COVID-19, because it offers the services you need while allowing for social distancing. Therapists and counselors are still available and want to help you manage your mental health through a safe and hygienic alternative. 
Benefits of Utilizing Teletherapy
There are many benefits to teletherapy for clients. Psychology Today names a few of the benefits to this virtual option. Some of the noteworthy benefits are provided here:
Safety
Teletherapy offers a safe and hygienic alternative to traditional therapy. This option allows for social distancing and gives individuals the reassurance that they cannot potentially get sick from meeting in person. This is true in all cases, including for patients with low immune systems and during a global pandemic like COVID-19.

This option also provides safety during times of bad weather or unfavorable commute conditions.
Efficiency
This treatment option allows individuals to virtually meet with therapists and counselors from the location of their choosing. This is cost- and time-effective because individuals do not need to commute to the therapists' offices. Clients can now save the money and time they would have spent on their commute.
Privacy
There are times when clients that know each other see each other in therapists' waiting rooms. This virtual option allows for complete privacy, as most of these sessions take place in comfort of the patients' home.
Accessibility
This option allows for clients who would typically have a long and difficult commute, those who live in rural communities or individuals unsure about trying therapy, to access services far easier than before. 

If meeting from a location of the clients' choosing, clients are likely to have access to food, drinks and bathroom breaks that will not have a line and will satisfy them to continue with the session.
Flexibility
This option provides the best options for rescheduling and integrating emergency sessions, as it typically impacts the therapists far less than doing so for an in-person appointment.
Preparing for a Successful Teletherapy Session
There are a few recommendations you can follow to have a successful teletherapy session with a licensed therapist or counselor. Here are some ways you can get the most out of your appointment:
Clear connection, good Wi-Fi or satellite signal
These services are provided virtually and require a good connection to function properly and effectively. Be sure to test your connection prior to your teletherapy session.
Quiet location
Finding a quiet location will allow you and your therapist to clearly hear each other and remain focused. Try to find a room or area with the least amount of noise and the most amount of privacy.
Avoid distractions
Be sure to silence your phone and potentially turn off notifications for the duration of your teletherapy session to avoid all distractions. Have your tv and music turned off. Try to complete tasks such as letting your dog out prior to your session.
Charge or plug in device
These sessions take place on a mobile device or desktop, so be sure to have your device completely charged or plugged into a power source so that you do not experience an abrupt end to your session.
Arranging a Teletherapy Session
As mentioned previously, teletherapy has many known benefits for clients exploring an alternative for traditional therapy. Once you have decided that this is a method that will benefit you, schedule your teletherapy appointment.
It is easy to find and schedule an appointment with our sub-grouping of therapists and counselors equipped for teletherapy. Call the Westside Behavioral Care receptionist Mon-Fri between 8:30 am and 5:00 pm: 303-986-4197. If you are calling outside of those hours and/or unable to schedule your session via that method, please leave us a voicemail, or visit our Tele-Therapy Online webpage to request a teletherapy appointment.