Thomas Stuart - LAC / LPC
Available on 12/5/2023 at 10:00 AM. Book appointment.
Thomas helps support his clients with a style that is warm, receptive, and understanding.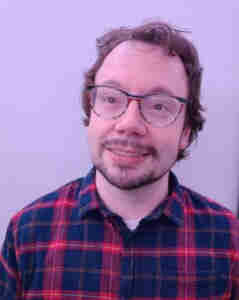 Hello, I'm Thomas Stuart, Licensed Professional Counselor, Licensed Addiction Counselor, and specialist on mental health issues related to the working relationship. Aside from 1:1 counseling, I also train other mental health providers in my solution-based approach to helping clients with work-related issues, and consult with various workplaces to train managers and help build happier worker-friendly workplaces.
Though my specialty is related to work health issues, the past fifteen years of my career have also been dedicated to offering traditional mental health counseling and addiction counseling services throughout Colorado. I continue to offer traditional mental health and substance abuse counseling services to clients, including those who are not coming to counseling for work-related issues.
My counseling style is client-centered and focuses on the client's strengths; we collaboratively identify goals to work towards together. I tend to shift between being listening, learning, being supportive and empathic – imparting information about psychology and cognitive science – and planning strategically and tactically together to make a plan to reach the client's goals. Since I specialize in a solution-based approach, I tend to get more detailed and involved in helping clients figure out solutions to their problems than many other counselors.
I have specific training and education in: Motivational Interviewing, CBT, ACT, REBT, Mindfulness Based CBT, Solution Focused Counseling, Career Counseling, Culturally Sensitive Counseling, Trauma Informed Counseling, Pain Management CBT from Stanford, and Crisis Management and Debriefing. I am a Licensed Addiction Counselor in addition to a Licensed Professional Counselor and am experienced working with substance abuse and dual diagnosis issues.
Feel free to schedule an initial session, I look forward to talking.
Insurance Accepted
Client Age
Locations
Online Therapy Session

No Physical Location, CO
Online Therapy
Thomas Stuart offers online therapy sessions through scheduled appointments. All Westside providers have access to HIPAA compliant and secure teleconferencing software to protect client privacy. Instructions to access a scheduled session will be sent directly by the provider leading up to the appointment.
Degrees & Licenses