Jamie Pledger - LPC
- Offers sessions in-person and online

Jamie helps young adults, college students, healthcare professionals, and refugees struggling with depression, anxiety, and life transitions.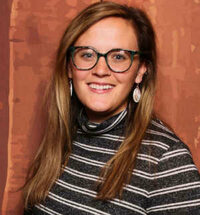 I believe that the power of therapy lies in the process – in uncovering histories, identifying patterns, and finding new perspectives. I help people struggling with depression, anxiety, and life transitions by increasing insight into those struggles as well as their patterns and habits, developing positive coping skills, and finding self-compassion. My hope as your therapist is that you'll leave with a strong sense of self and healing, with direction on how to be the person you want to be moving forward.
I am a Licensed Professional Counselor and Licensed Addictions Counselor in the state of Colorado, with a Masters in Psychology from the University of Denver. I currently work part-time as a counselor at a local community college, and the rest of my time I see clients through my private practice, Tea and Sympathy Therapy. I have experience working with a range of individuals including young adults, college students, healthcare professionals, refugees, and those suffering from homelessness. I primarily utilize relational therapy, meaning that the relationship between me and my client is prioritized, as it is often the method to establishing trust, the foundation of a positive therapy experience. I also practice Cognitive Behavioral Therapy (CBT) and Mindfulness. That being said, the most critical piece of my practice is providing a safe, non-judgmental space for you to challenge yourself, grow, and meet your goals.
Therapy can be tough, often demanding courage and vulnerability. As your therapist, it is my joy and privilege to embark on and endure this journey with you. If you are interested in meeting with me and would like to speak to me further to see if we would be a good fit, I offer free 15-minute consultations over the phone.
Jamie Pledger Has Limited Availability
To connect with Jamie Pledger, please contact our scheduling team at info@westsidebehavioral.com any time.
Insurance Accepted
Client Age
Locations
2955 Valmont Rd, Suite 310

Boulder, CO 80301
Online Therapy
Jamie Pledger offers online therapy sessions through scheduled appointments. All Westside providers have access to HIPAA compliant and secure teleconferencing software to protect client privacy. Instructions to access a scheduled session will be sent directly by the provider leading up to the appointment.
Degrees & Licenses