Alexandria Ambrose - Psy.D.
Alexandria believes you are the expert of your own life but that healing can be nearly impossible  to do on your own.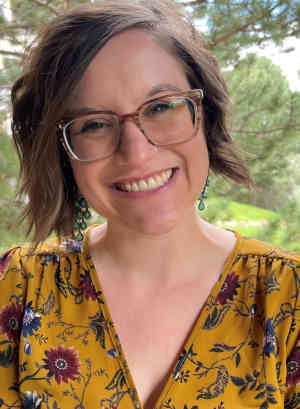 Hi! I am Dr. Alexandria Ambrose, licensed psychologist in Colorado and credentialed  in the National Register of Health Service Psychologists. I earned my doctorate in  Clinical Psychology from the University of Hartford in 2019. I have had clinical  experiences in residential school, inpatient hospital, forensic inpatient, intensive  outpatient, and university counseling center settings.  
My most meaningful experiences include working with those coping with chronic  medical illness, relational trauma, grief and loss, disordered eating patterns, and  major life transitions. Additionally, I work with couples at any stage in their  relationship to focus on relationship concerns, communication, and attachment  issues. I provide gender and LGBTQ+ affirming services throughout my practice.  I'm a firm believer that not one size fits all, so I work collaboratively with you to cope  and heal from these stressors. I approach this work genuinely and compassionately. I  believe you are the expert of your own life but that healing can be nearly impossible  to do on your own.

In our work, we will reflect on systems that perpetuate forms of  discrimination that absolutely impact your mental and physical health, heal from  painful experiences, work through complicated emotions, navigate relationships, and  learn coping skills. We will talk about your present concerns and how they impact  your daily life, such as relationships, physical health, and cultural identities. My  approach also includes processing past experiences and relationships which shape  who we are and how we navigate the world. I believe that so many stressors make our  life feel out of our control, and therapy can be a time to reclaim some of that and  reconnect with yourself, others, and the feelings that you may have been given the  message that you should not or cannot feel. I look forward to providing an empowering and validating space where you can be  authentically yourself and find support in navigating the changes you want to make in therapy.
Alexandria Ambrose Has Limited Availability
To connect with Alexandria Ambrose, please contact our scheduling team at info@westsidebehavioral.com any time.
Kaiser Approved Therapist
Alexandria Ambrose has been credentialed as an in-network Kaiser Permanente provider. Westside will be able to bill your Colorado Kaiser Permanente plan for the mental health services provided.
Verify active Kaiser status
Insurance Accepted
Client Age
Locations
Online Therapy Session

No Physical Location, CO
Online Therapy
Alexandria Ambrose offers online therapy sessions through scheduled appointments. All Westside providers have access to HIPAA compliant and secure teleconferencing software to protect client privacy. Instructions to access a scheduled session will be sent directly by the provider leading up to the appointment.
Degrees & Licenses