Tess Rose - LCSW
- Offers sessions in-person and online

Tess works to understand where you are now and create a plan together to get you to where you want to be.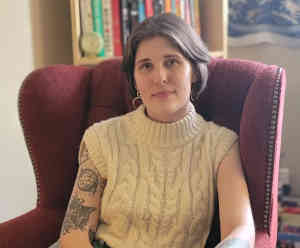 Do you want to better understand and take care of yourself, but feel like you need some extra attention and tools to do so? Are you hoping to heal from deep distress and connect to a life worth living? Your distress might have you not recognizing yourself, or trying to cope in whatever way you can. You might feel disconnected, numb, like you're going through the motions, or like there are parts of you that are not within your control. You might feel distressed because of the state of the world. Whatever type of distress you're experiencing, I want to help you build awareness of how it takes shape, how it functions, and what you need to decrease the severity of it.
I want to know what being human means to you, and want to help you find a sense of wholeness and power in your mind, your body, and your spirit. I want to know what your inner and outer worlds look like and be curious about how they impact you. Together, we can make meaning out of the chaos. I strive to create a partnership where we can turn inward together and come to understand your experience. Beyond that, I hope to empower you to turn outward and find resonance and embodiment in the world around you. Therapy at it's core is a relational experience, and I strive to let connection and curiosity drive my work.
Being human is amplified by our connections, and I would be honored to connect, be human together, and help you navigate your path forward.
I offer therapy services in my home office. I have 2 sweet kitties who will join sessions if they would like and if you would like. I also have plenty of areas to walk and chat for walk-and-talk therapy, as well as outdoor spaces to utilize for eco therapy.
Tess Rose Has Limited Availability
To connect with Tess Rose, please contact our scheduling team at info@westsidebehavioral.com any time.
Kaiser Approved Therapist
Tess Rose has been credentialed as an in-network Kaiser Permanente provider. Westside will be able to bill your Colorado Kaiser Permanente plan for the mental health services provided.
Verify active Kaiser status
Insurance Accepted
Client Age
Locations
Online Therapy Session

No Physical Location, CO
Online Therapy
Tess Rose offers online therapy sessions through scheduled appointments. All Westside providers have access to HIPAA compliant and secure teleconferencing software to protect client privacy. Instructions to access a scheduled session will be sent directly by the provider leading up to the appointment.
Degrees & Licenses